We've noticed that our 24-hour Support Team receives a lot of questions about this program and how to become an Agent of Adoperator, and about opportunities of attracting new partners together with Adoperator.

In this article, we will talk about program for our Agents.
Due to continuously growing number of publishers and traffic sources on the platform, we decide to focus on  better monetization for our websites and premium sources. Is that why we started special reward (affiliate) program for Agents who work with advertisers and advertisers' budgets. Our Agents receive 7% of advertising budget if new client registered by link or by recommendation from our Agent.
Yes that is right.  This means that if the advertiser spent $10,000 for a month, you will get $700, and if $50,000 the amount will be $3,500 for a month, not bad! And if you bring a few of these advertisers? 
The online advertising market continues to grow, and many of our customers who come to us stay for many years and spend millions of dollars yearly. Our ad network support wide range of payment options and transparent reporting and targeting features including CPA server 2 server tracking and many others. Working 4 years here in Adoperator.com we believe that our primary advantage is boutique support of our advertisers and publishers.
For our active Agents we provide referral links to track their leads as well as customized media kit and full support by a dedicated department. 
If you have an experience in the Internet marketing industry or you have a website dedicated to affiliate marketing or you distribute affiliate marketing courses or online ecommerce courses either you grow your own sales and marketing community, we are pleasantly welcome you to become our affiliated Agent. If you have ever worked in the industry, bring your contacts to the link and earn money.
How do I get started?
First you need to register as an advertiser in our platform by following the link
Then click on the [I] Information icon in the upper-right corner.

Go to the referral (agents) program section 

Here you will find a link to send future customers to https://go.adoperator.com/referral-program/linking-code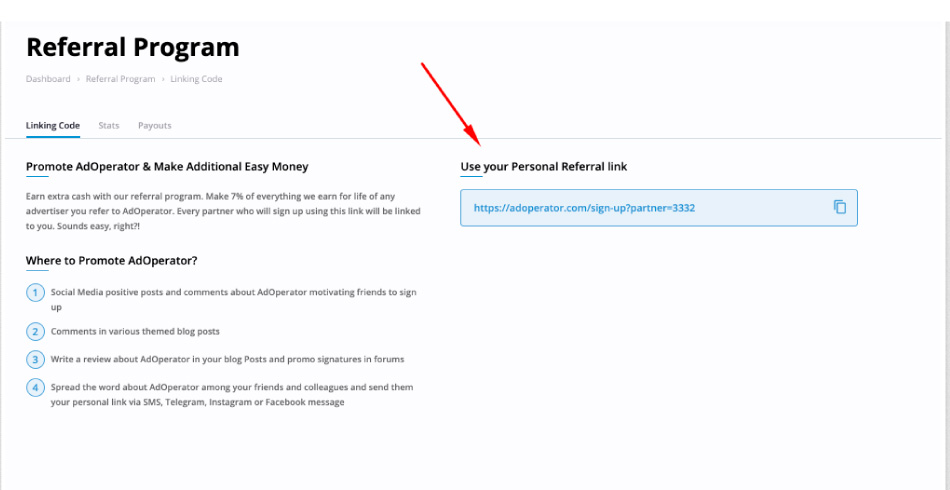 You can use your partner ID with any page of the site, for example https://adoperator.com/advertisers?partner=XXXX
You can check the statistics on attracted referrals in the additional tab.

The resulting income can be used as a budget to launch your own advertising campaigns or withdraw it to your personal wallet or bank account.

(Other payment methods are also available on request, in this case, just contact support)
Payments are made on request as soon as the minimum amount ($50) is collected.
If you have any questions or suggestions regarding our Agency Program please get in touch with our dedicated department at agency@adoperator.com 
The global online advertising market is $ 650 billion annually. Register and act as a full partner and Agent in this huge market together with Adoperator Ad Network!