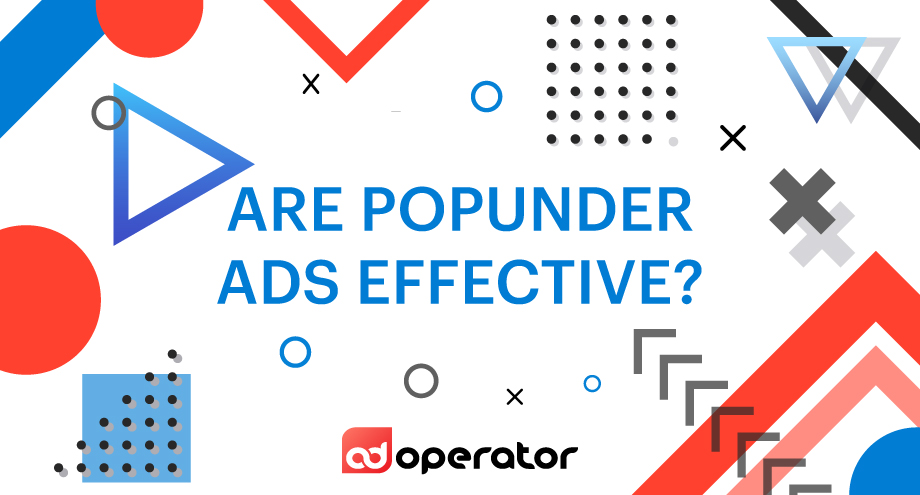 How do popunder ads work?
Popunder is an ad that opens in a new window behind the browser. JavaScript technology is usually used to create it. Tracking the appearance of a new window is quite difficult. Because advertising in Popunder (unlike Popup) does not make it difficult to view the main content of the site, most users pay attention to the new block only after closing the main browser window. A distinctive feature of Pop-under advertising is that a new window opens when you try to close a pop-up banner on the site. As a result, the user who wants to close the ad gets a new one.
What do users feel about popunder?
Most users do not respond to ads that pop up in a new window: the page is usually closed without examining the content contained on it. Pop-under ads cause people to feel irritated, which turns them into anti-ads. Some website visitors use the pop-up blocker feature, which is available in almost all modern browsers, to disable Pop-under ads.
Reasons to use pop-under ads
Pop-under advertising has undeniable advantages over other formats.
The user is guaranteed to go to the advertiser's website.
Advertising does not spoil the site design.
It is cheaper than other formats, because payment is mostly made using the CPM model. It should be noted that in this format, the number of impressions is equal to the number of clicks, because each user gets to the target site.
Attracts a large amount of traffic.
It is shown to a unique user only once a day, which does not "drain" money when the user repeatedly clicks on the same site.
Wide scope of audience.
How to use popunders effectively
 Take the choice of an advertising network very seriously, and don't focus only on the low price criteria. Focus on the quality of traffic and how much it is converted. You need not only the volume, but also the result. 
To select the appropriate traffic source, test it!  Just add your selected sources to tracker, launch ad campaigns, and analyze them. The platform's statistics will allow you to view results for a large number of criteria, in different sections, and compare them with each other.
Use Creative banners. In order for your popunder not to be closed immediately, it should " catch the eye" with its visual and unique offers.
The design of your landing page should be attractive, informative and interesting, because the user will get to this page even if they close the ad.
Product advertising must be combined with the site's theme. This shows how well the audience is selected and how accurately you are focused on "your customers".
Analyze results, collect statistics, analyze results, make adjustments, Refine targeting, experiment with creatives, and improve your performance indicators.
Some strategies that work
implementing a hover-style pop-up doubled subscription rates without increasing the bounce rate.
If you are promoting a premium product, popunder is a good tool for increasing conversions.
If a website has unique content, such as music or video, popander advertising seems to be a good way to earn money.
It's better to use a hover ad when visitors are further down a page—like at the end of a blog post.
How to Launch a Campaign on Adoperator
After you register, you will be assigned a personal account manager who will help you to understand how the system works if you are a beginner; if you are an experienced user the manager will help you to estimate volumes and find out competitive rates. When you start creating an advertising campaign, all necessary statistics will be available to you.
click Create campaign section.
select an ad format; a classic format is: campaign name and tracking URL
set up targeting: specify the country, browser, operating system; you can set up "advanced" settings: choose a city; choose ad performance time; download IP List; for sweepstakes and mobile subscriptions, one can buy mobile traffic.
set the budget, bid and the number of entries per IP address.
set up the postback
save the campaign.
After having been set up the advertising campaign is sent for moderation - verification lasts from several minutes to an hour.
Thus, using pop-under ads should be a well-considered decision. It allows you to quickly convert user traffic into cash flow, but it certainly irritates users and leads to a drop in search results.